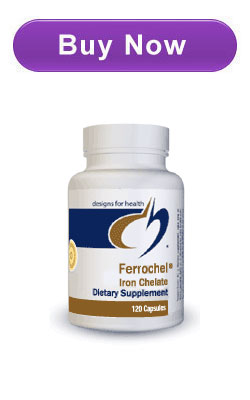 Designs for Health offers Ferrochel® as another in the line of superior absorption "true chelate" mineral supplements utilizing Albion Advanced Nutrition starting material. This potent iron supplement is chelated to two glycine molecules. Patients often complain of poor tolerance of their iron supplements resulting in gastric distress and/or constipation. With Ferrochel® this isn't an issue as it is extremely well tolerated by the gastrointestinal system. It may be safely recommended for pregnant and lactating women, teenagers and adults. (Please keep out of the reach of very small children). 1-2 capsules can be taken daily until iron deficiency anemia resolves or when ferritin levels return to normal. Do not recommend for patients with high ferritin levels. One capsule daily during menstruation may help prevent anemia.*
Product Contains: Iron (Ferrochel® Bis-Glycinate Chelate) 27 mg.
Other Ingredients: Microcrystalline cellulose, vegetable stearate, rice flour.
This product does not contain: wheat, yeast, soy, gluten, eggs, dairy, corn, artificial colors, flavors, sugars, or preservatives
Serving Size: 1 capsule
Recommended Use: As a dietary supplement, take one to two capsules per day with meals or as directed by your health care practitioner.
Accidental overdose of iron-containing products is a leading source of fatal poisoning in children. In case of accidental overdose, call a doctor or poison control center immediately.
Trademark Information: Ferrochel and the Albion Medallion desing are registered trademarks of Albion Laboratories, Inc.
STORE IN A COOL, DRY PLACE. KEEP OUT OF REACH OF CHILDREN
*These statements have not been evaluated by the Food and Drug Administration. This product is not intended to diagnose, treat, cure or prevent any disease.
Free Shipping. No Ifs, Ands, or Buts!