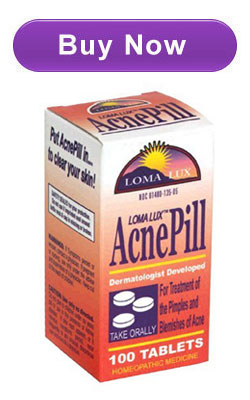 Loma Lux Acne Pill
Loma Lux's Acne Pill is a homeopathic medicine developed by dermatologist Steven A. Smith, MD. Acne Pill provides relief from unsightly pimples, blackheads, whiteheads and blemishes. Acne Pill comes in tablet form and is taken orally. Just one dose, once a day!
Directions:
Take once per day as indicated on chart below. Continue use as long as it is beneficial to your overall condition.
Weight Daily Dosage
50-100 lbs One tablet
100-150 lbs Two tablets
150-200 lbs Three tablets
Over 200 lbs Four tablets
Supplement Facts:
Each 300 mg tablet contains:
Active Ingredients:
Kali bromatum 1X/ potassium bromide; natrum bromatum 2X/sodium bromide; niccolum sulphuricum 6X/nickel sulphate; sulphur 6X; and hepar suphuris calcareum 9X/ calcium sulfide.
Inactive Ingredients:
Lactose and magnesium stearate.
Warnings: If symptoms persist or worsen, contact a physician. If pregnant or nursing, use only under the advice and supervision of a physician. Keep out of the reach of children.
Caution: Use only as directed. Do not give to children under six years old or use in the presence of kidney disease. If skin rash appears, or if nervous symptoms persist, recur frequently or are unusual, discontinue use and consult a physician.
Free Shipping. No Ifs, Ands or Buts!