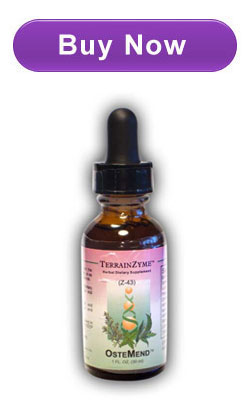 OSTEMEND (1 oz. liquid)
OsteMend™ is the support-half of a highly effective two-formula bone support program. It unites the wisdom of ancient herbal ingredients with clinical testing in order to provide the patient with a powerful approach. Chinese and western herbal traditions have been combined for maximum benefit. When combined with Cal-Zyme™ (Z-8), proper dieting, and exercise, one has a comprehensive program to support bone health.
Servings: Take 15 drops under the tongue 3 times a day, before meals, or as directed by your healthcare practitioner. CHILDREN Under 5, use one quarter the adult serving. Between ages 6-15, use one half the adult serving.
As always, please consult your physician prior to taking any dietary supplements or drugs.