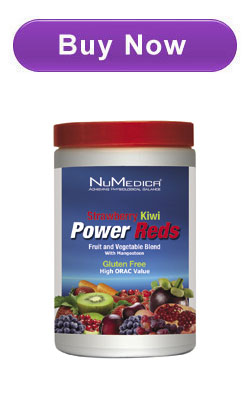 Power Reds Strawberry Kiwi 300g by NuMedica
Delicious Reds Formula with High ORAC & Mangosteen
Power Reds™ Strawberry Kiwi is an easy mixing, great tasting and energizing "phyto-nutrient" powder mix loaded with certified organic, whole food plant extracts. It also supplies a super blend of completely natural vitamins, ionic trace minerals, enzymes, antioxidants, phyto-nutrients and symbiotic intestinal flora for maximum energy, metabolism, fat burning, digestion, detoxification, immunity, repair, recovery, revitalization, and longevity.
Directions: Add one scoop to 8 ounces of water and stir. After opening, keep refrigerated for maximum freshness.
As always, please consult your physician prior to taking any dietary supplements or drugs.