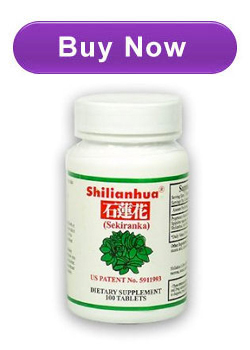 Shilianhua – Maintain Healthy Blood Sugar Levels
US Patent No. 5911993 Japan Patent No. 1825088
Where Shilianhua Came From
The Shilianhua is a wild plant growing in the mountain areas of Bama County located in Southwestern China. The population of Bama County lives longer, earning the County the envied reference as the "home of longevity". Amazingly, the 81 men and women of Bama who are over one hundred years old are nearly all in good health. Bama people generally look younger than their age. Even their horses live 7-10 years longer than elsewhere in China. One of their most important secrets to longevity and health is the inclusion of the Shilianhua plant in their daily diet. Their horses are probably to benefit from having a liking for the plant. The health benefits of Shilianhua to the human body was extensively studied and researched for more than a decade by the Life Science Institute of Beijing University.
Shilianhua (Sekirenka in Japanese) tablets are manufactured in the U.S.A. in an uncomplicated and proven method using mainly a natural source-Shilianhua extract. The Shilianhua has no toxicity. It may be highly effectively in reducing blood sugar for diabetes, especially for non-insulin dependent diabetes, without causing any undesirable side effect, The herbal and nutritional supplement used to make up the Shilianhua tablets enhance its performance. The main medication of the Shilianhua rejuvenate cells of the human body and improve the functioning of the pancreas that controls blood sugar
Manage Diabetes
Medical studies and clinical trials in both China and Japan have shown that Shilianhua tablets can lower blood sugar values from 300 mg/dl to 125 mg/dl in just 2-3 weeks. Due to its effectiveness in lowering blood sugar for diabetes, in 1994, the Shilianhua was granted a patent (Patent No. 1825088) in Japan. The Shilianhua is now very popular in Japan, and sold nationwide in hundrds of Japanese stores. In 1999 the Shilianhua obtained an U.S.A patent(Paten No. 5911993) for its effectiveness in managing diabetes.
Ingredients
Shilianhua, Spirulina, Lycium berry extract, Soy fiber and gar gum
Recommendation
2-3 tablets, 3 times a day, preferably one hour before meals
Package
100 tablets per bottle, 400mg/tablet