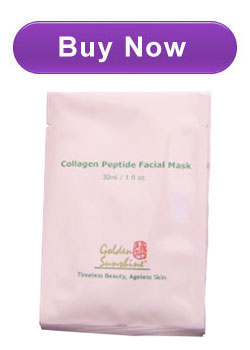 Golden Sunshine's Collagen Peptide Facial Mask is infused with pure herbal extracts for concentrated delivery. The facial mask helps to maintain translucency, whiteness and elasticity while moisturizes the skin and make it silky smooth!
Directions
After cleansing the face, remove the mask from foil pouch. Fit the mask over the entire face for 20-30 minutes, then remove. Do not rinse off. Let dry naturally. Use once or twice a week for best result.
Ingredients
Collagen Silk Peptide (Vegetal), Aloe Extract, Reishi Extract, Ginseng Extract, Licorice Extract, Pearl Extract, Placenta Extract (Vegetal), Lavender Essence, Methyl Paraben.
Notes
For external use only. Avoid contact with eyes or mucous membranes. Keep out of reach of children. If signs of irritation or rash appear, discontinue use and consult your dermatologist.
Content
1 mask – 30ml / 1 fl oz