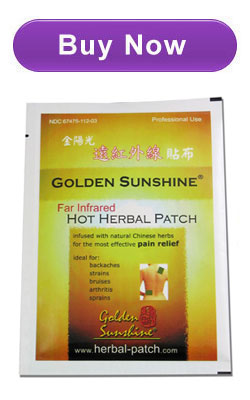 Golden Sunshine Far Infrared Hot Herbal Patch
This pain relief patch is infused with natural Chinese herbs ideal for backaches, strains, bruises, arthritis and sprains. The patch can be cut into different sizes to be used anywhere on your body.
Each packet contains 3 patches (4.3 x 5.9 inches / 11 x 15 cm)
Directions:
For adults and children 6 and older. Clean the affected area before use. Peel off film and cover affected area with patch. Keep on for up to 8 hours under normal conditions. Apply once or twice per day as needed. For children under 6 years of age, consult a doctor. Users with sensitive skin should test on small area first.
Active Ingredients:
Menthol, tourmaline, wintergreen oil.
Other Ingredients:
Sesame oil, resin, nelumbinis stamin, zinc oxide, resina liquidambaris, frankencense, myrrha, angelicae sinensis radix, scrophulariae radix, gleditsiae abnormalis fructus, angelicae dahuricae radix, tartrazine.
Free Shipping. No Ifs, Ands or Buts!