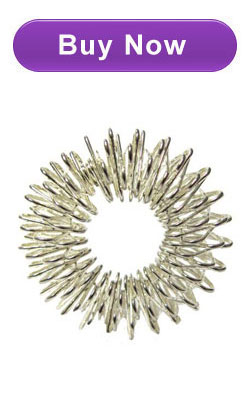 Massage Ring (Chinese Medicine Acupressure Ring)
Our Acupressure Chinese Medicine Massage Rings are great for giving you energy, improving your concentration and your health in general. This massage ring is designed based on Traditional Chinese Medicine and Acupuncture.
Simply put it on any of your fingers and roll it up and down. This acupressure treatment can be used while you study, work on computer, read or after having played musical instruments or driven a car for significant amount of time. It's also recommended to use the ring if your fingers feel tired, your mind is distracted or you have finger numbness.
The Acupressure ring is made with stainless steel. It's shaped in triangles and form a circle. The tip of the triangles stimulate various meridian points on your fingers while you roll it up and down. The massage ring comes in one size and it comfortably fit all fingers.
This Acupressure massage ring is perfect for yourself or as gifts to your loved ones.
Free Shipping. No Ifs, Ands or  Buts!