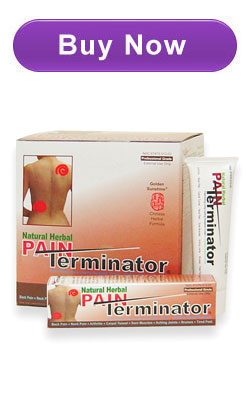 Natural Herbal Pain Terminator Cream
This is a fast-acting, long-lasting analgesic cream made with Chinese herbal formulas. It is ideal for relief of back pain, neck pain, carpal tunnel, sore muscles, aching joints, bruises and tired feet.
Active Ingredients:
Menthol 2% – topical analgesic, Wintergreen Oil 0.5% – topical analgesic.
Indications:
For temporary relief of minor aches of muscles and joints associated with: simple backache, arthritis, strains, bruises and sprains.
Directions:
Apply to affected area not more than 2 to 3 times daily. Try on small area first to test for sensitivity. Children under 4 years of age should not use, unless consulted by a physician.
Warnings:
For external use only.
Avoid contact with eyes or mucous membranes.
Do not apply on wounds or damaged or irritated skin.
Do not use if skin is sensitive or have allergies to any ingredients in this product. Discontinue use and consult a docotor if signs of irritation or rash appear.
In case of ingestion, seek professional assistance or contact a Poison Control Center immediately.
If pregnant or breast feeding, consult a doctor before use.
Keep out of reach of children
Other Ingredients:
Jojoba oil, paeonia veitchii radix, angelicae sinensis radix, carthami flos, pyritum, draconis resina, myrrha, ligustici rhizoma, acanthopanacis cortex, achyranthis radix, atractylodis rhizoma, gentianae macrophyllae radix, pinelliae tuber, saussureae radix, cnidii monnieri fructus, cinnamonomi cortex, dioscoreae tokoro rhizoma, jasmine oil, tourmaline.
Contains 1.77 oz (50 gm)
This product is also available in:
Free Shipping. No Ifs, Ands or Buts!