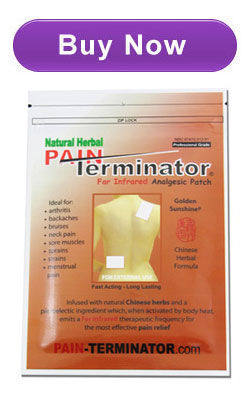 Golden Sunshine Far Infrared Cool Herbal Patch
This pain relief patch is infused with natural Chinese herbs and a piezoelectic ingredient which, when activated by body heat, emits a far infrared therapeutic frequency for the most effective pain relief. The patch can be cut into different sizes to be used anywhere on your body. This patch provides relief for arthritis, backaches, bruises, neck pain, sore muscles, sprains, strains and menstrual pain.
Each packet contains 5 patches (3.9 x 2.9 inches / 10 x 7.5 cm)
Directions:
For adults and children 6 and older. Clean the affected area before use. Peel off film and cover affected area with patch. Keep on for up to 8 hours under normal conditions. Apply once or twice per day as needed. Allow skin to breath for a few hours between applications. For children under 6 years of age, consult a doctor. Users with sensitive skin should test on small area first.
Active Ingredients:
Menthol 3%, topical analgesic, wintergreen oil 0.5%, topical analgesic, tourmaline 1%.
Other Ingredients:
Sesame oil, resin, paeoniae veitchii radix, zinc oxide, drynariae rhizoma, angelica sinensis radix, carthami flos, pyritnum, draconis resina, frankencense, myrrha, terebinthina, ligustiei rhizoma, achyranthis radix, acanthopanacus cortex, acori rhizoma, atractylodis rhizoma, saussureae radix, gentianae macrophyllae radix, cnidii monnieri fructus, cinnamonomi cortex, aconiti tuber, pinelliae tuber, dendrobii caulis, dioscoreae tokoro rhizoma, indigo carmine, tartrazine.
This product is also available in:
Free Shipping. No Ifs, Ands or Buts!