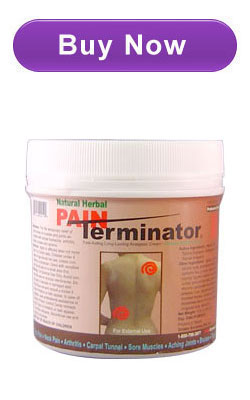 Pain Terminator Cream Jar
Golden Sunshine's Herbal Creams are ideal to massage into aching muscles and joints. They assist the body in relieving the uncomfortable symptoms of pain and stiffness. Herbal Cream can be used in concert with Herbal Patch for maximum effect.
Unit Size: 500 grams (17.60oz) Jar
Dosage: Apply to the affected area not more than 2 to 3 times daily. Try on small area first to test for sensitivity. Children under 4 years of age should not use, unless consulted by a physician.
Contraindications: For external use only. Avoid contact with eyes or mucous membranes.
Ingredients: Active Ingredients: Menthol 2%, Wintergreen 0.5% Other
Ingredients: Jojoba oil, paeonia veitchi radix, angelica sinensis radix, cathami flos, pyritum, draconis resina, myrrha, ligustici rhizoma, acanthopanacis cortex, achyranthis radix, atractylodis rhizoma, gentianae macrophyllae radix, pinelliae tuber, saussureae radix, cnidii monnieri fructus, cinnamonomi cortex, dioscoreae tokoro rhizoma, jasmine oil, tourmaline, indigo carmine, tartrazine.
This product is also available in:
Free Shipping. No Ifs, Ands or Buts!