Cupping
History of Cupping
Cupping is one of the oldest methods of traditional Chinese medicine. The earliest recorded use of cupping dates to the early fourth century, when the noted herbalist Ge Hong wrote about a form of cupping in A Handbook of Prescriptions. Later books written during the Tang and Qing dynasties described cupping in great detail; one textbook included an entire chapter on "fire jar qi", a type of cupping that could alleviate headaches, dizziness and abdominal pain.
How Cupping Works
Originally, practitioners would use hollowed-out animal horns for cups, and place them over particular points or meridians. Today, most acupuncturists use cups made of thick glass or plastic, although bamboo, iron and pottery cups are still used in other countries. Glass cups are the preferred method of delivery, because they do not break as easily as pottery or deteriorate like bamboo, and they allow the acupuncturist to see the skin and evaluate the effects of treatment.
How Cupping Can Help You
Cupping, like Moxibustion, is usually provided as a complimentary treatment to Acupuncture. Chinese herbal medicine could also be prescribed to further strengthen and compliment Cupping treatments.
Cupping Kit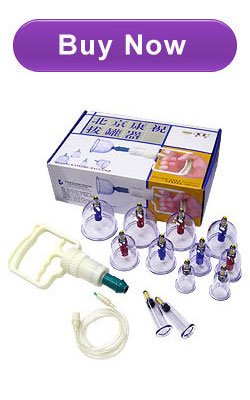 Now with the Kangci Cupping Kit, you can do it at the comfort of your home! This cupping kit comes with 12 cups of different sizes for different parts of your body. Unlike traditional cupping treatments, this cupping kit does not require fire. It comes with a pump gun that creates vacuum inside the cups by simply sucking the air out. It also comes with an extended tube to assist you in applying the cups onto yourself. The instruction manual also includes a list of the most common illnesses and tells you where you should apply the cups for best result.